SpectraLite EyeCare Pro LED
Rested, revived, youthful-looking eyes in just three minutes a day – hands-free – is the promise made by this next-generation light therapy tool. And how does it keep this promise, you ask? With 72 red and amber, collagen-stimulating LEDs, which bring a f
50 Sold
$188.99 $168.99
What it is
Rested, revived, youthful-looking eyes in just three minutes a day – hands-free – is the promise made by this next-generation light therapy tool. And how does it keep this promise, you ask? With 72 red and amber, collagen-stimulating LEDs, which bring a full spectrum of therapeutic light to your home. With improvements visible in just two weeks, this is your fast-track to fewer fine lines and a more even tone.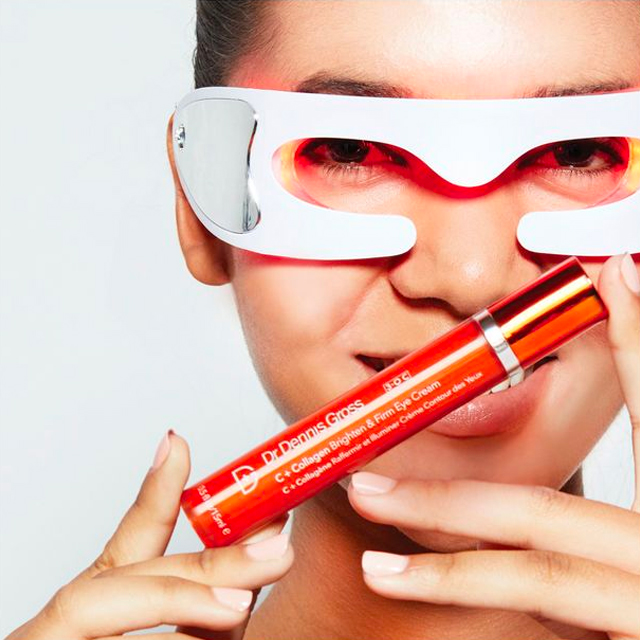 DESCRIPTION
Like having a daily professional light therapy session at home, Dr Dennis Gross' Spectralite EyeCare PRO is the future of skin care for the delicate eye area: and it's looking bright. A next-generation, universal-fit model, this innovative device sits comfortably over the eye area and utilises the light of 72 red and amber LEDs to kick-start under-active skin cells and affect miraculous results. Penetrating deep within the dermis of the skin, this longer-wave light is proven to help stimulate collagen synthesis – jump-starting your fibroblasts to fortify skin's fabric and enhance its elasticity which in turn, lessens depth of lines and crow's feet. You'll start to notice surface changes in as little as two weeks and 97% of subjects in Dr Dennis Gross' clinical study showed visible improvements in fine lines, wrinkles and skin tone over a 10-week period of daily use. We like those odds! With a universal USB charging cord, detachable, adjustable head strap, convenient storage bag and a full instructional manual included, we're struggling to think of a reason not to snap one up…

How to use
On clean dry skin, place device comfortably over the eye area. (If needed, strap is included for added comfort.) Power on device and use for the programmed treatment time of 3 minutes. Device will automatically shut off. Remove device and follow with an eye serum and/or cream of your choice.
What's Included:
SpectraLite™ EyeCare Pro
Universal USB charging cord
Detachable, adjustable head strap
Storage bag
User Manual
Device Features &
Hands-free device – ease and convenience
Automatic shutoff after 3 minutes – worry-free, short wear time
USB-enabled device with charging indicator light – travel friendly
Flexible silicone design and adjustable head strap – comfortable, universal fit
Skin
Penetrates deep within skin to build collagen
Smoothes wrinkles and crow's feet
Firms skin
Evens skin tone and texture
Increases skin density