Hand Blown Miel de Lavande Candle( 190g )
Uniting the worlds of beauty and wellbeing, Bastide's luxurious range of perfume, home fragrance and skin care is luxurious in its simplicity. The entire range is made with love in Aix-en-Provence, combining the finest locally sourced ingredients and heap
0 Sold
$55.99 $50.99
What it is
Uniting the worlds of beauty and wellbeing, Bastide's luxurious range of perfume, home fragrance and skin care is luxurious in its simplicity. The entire range is made with love in Aix-en-Provence, combining the finest locally sourced ingredients and heaps of French savoir-faire. Bastide's Hand Blown Miel de Lavande Candle smells as sublime as the authentic, amber bubble glass container would suggest. With an average burn time of 45-50 hours, this heavenly scented aroma will transport you to the Provence countryside with the sweet and aromatic scent of subtly sweet honey and fresh, crisp lavender.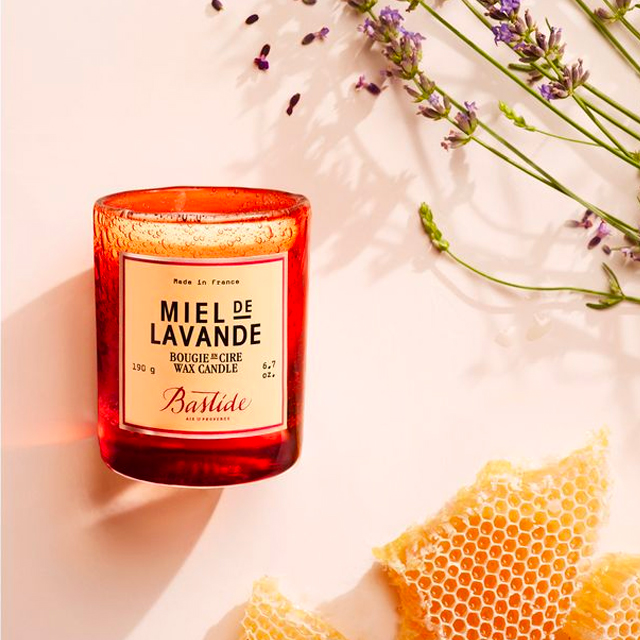 DESCRIPTION
Perfect if you're longing for light and airy spring mornings (even if it's raining outside!), this Hand Blown Miel de Lavande Candle blends aromatic lavender with sweet honey for a delicious, quintessentially French scent that will linger in the air, on cosy cushions and diffused through throws as it drifts through your home, burning down to its sublime base. Encased in a hand-blown amber bubble glass and housed in a brick terracotta presentation box with Bastide's covetable branding, this would make a luxurious gift to a loved one as well as a special pick-me-up treat to yourself. Be warned though, once you find your favourite Bastide scents (it's incredibly hard to pick just one!) your collection quickly grow and grow.

HOW TO USE
45-50 hours of burn time
Head: Lavender, freesia
Heart: Almond flower, fresh lilac
Base: Sweet honey, blond woods

FULL INGREDIENTS LIST
Blend of paraffin and vegetable wax, Fragrance.